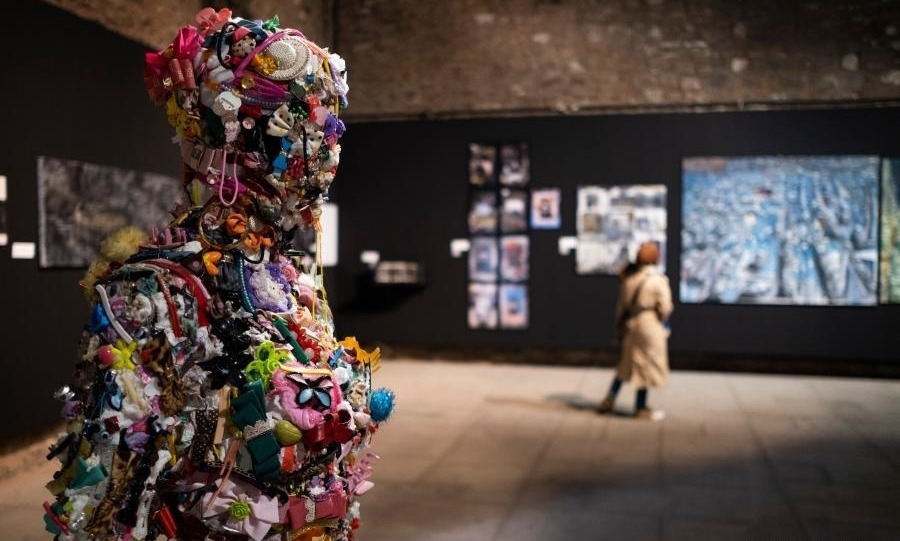 ISTANBUL - More than a hundred young Turkish artists reveal the effects of the COVID-19 pandemic on their inner worlds in a big art show in Istanbul, the country's cultural hub.
The fourth edition of BASE, one of the most important art events in Turkey dedicated to young performers, opened its doors on Friday with a show of more than 110 works created by 102 artists from diverse disciplines.
"We can follow the traces of the pandemic quarantine process, sometimes indirectly and sometimes directly, through the unique creative styles of the participating artists," says curator Derya Yucel.
Called Far-Near, this year's theme describes the pandemic era, in which individual isolation has become the new normal. It tells a story of humanity's ability to adapt to changing conditions, organizers say.
"The outbreak changed our perception and interpretation of the world. Today, the concepts of distance, proximity and contact with others create metaphorically stronger associations in art more than ever before," Yucel says.
Ali Kerem Bilge, a cofounder of BASE, says: "This year, we all went through a very difficult process as we encountered a traumatic period, both individually and socially. At a time when individuals are confined and return to their immediate surroundings, art offers us an opportunity to confront ourselves and at the same time presents an occasion for recovery."
For Bilge, therefore, the works on exhibit have attained a peculiar value as they mirror the traumas of young artists during their isolation, followed by salvation from stress.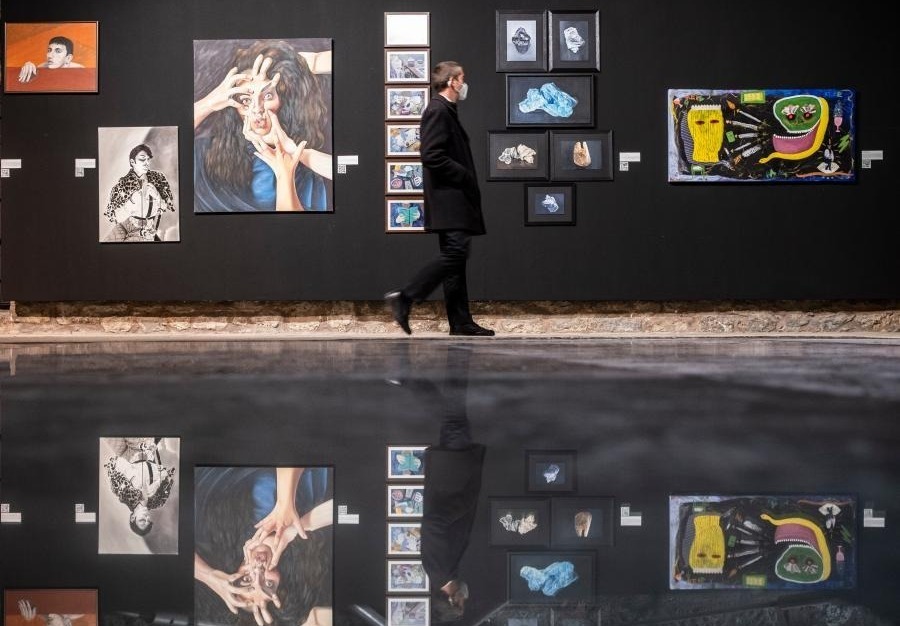 Visitors view artworks during the fourth edition of BASE in Istanbul, Turkey, on Nov 20. An important art event in Turkey dedicated to young performers, this year's art show focuses on the effects of the COVID-19 pandemic on the artists' inner worlds. [Photo by Osman Orsal/Xinhua]
Ogulcan Arslan, a participating photo artist, entered a period of introversion when the pandemic first erupted in Turkey in mid-March and begun to interrogate his works.
He now thinks that artists from now on will follow a more subjective and personal story flow in their works, as contact with others is limited due to the contamination risk.
Arslan participated in the exhibition with a series of photos telling stories of horse-drawn carriages on Princes' Islands, an archipelago off Istanbul in the Marmara Sea. He spent two years observing and taking photos.
"Before the outbreak, I intended to focus on the stories of coachmen," Arslan says. "But later, I had to change my point of view and concentrate on horses to reduce my contact with people because of COVID-19 concerns."
Cemal Nazim Arslan, another featured artist, produced a series of oil paintings on plexiglass called Silhouette, which tells a story about people being unable to be themselves because of the influence of others.
For him, the pandemic affected all the segments of life, changing the design of the entire world.
"Therefore, the themes of our works and our materials are now all subject to change," he says. He also stresses that artists should get rid of their anxieties and adapt to the conditions of the new era to be able to continue creating and producing.
Sadik Ramazan Yilmaz, a ceramic artist, focused on the relationship between humans and waste - "the objects that they left behind". In his works, the artist shows how household waste can be transformed into art objects.
Yilmaz had a huge problem in terms of supplying raw material and finding a workplace with an oven for his ceramics during quarantine. Despite all the challenges, however, he hasn't stopped producing.
After the pandemic ends, he thinks an "interdisciplinary language" will be created, and artists will use diverse techniques and go as far as technology supports.
"A painter will not only paint but also use a combination of mixed media," he says.
In line with the new COVID-19 measures, the exhibition, which closed on Wednesday, could also be visited online. Meanwhile, a limited number of visitors were allowed in the venue under social distancing rules.