This artwork is one of my "Architecture of relationships" series. When expression of relationships determines certain directions, movements, forms it creates its own architecture.
It is artwork about support. Human to human. The support with which we became able to build something bigger, mindful other than alone. That is a triumph of relationships.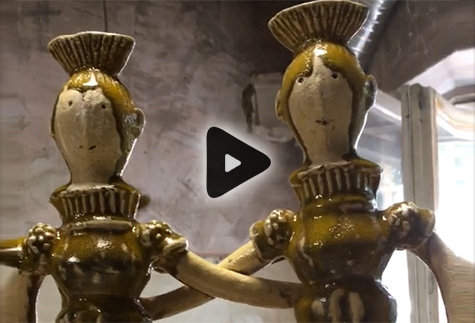 Europe based professional artist in art ceramic with experience over 40 years.
Date of birth: 22 September 1960 (Ukraine)
Education: 1979-1984 Lviv National Academy of Arts
Work Experience: 1984 - till now - work in own studio in Lviv, Ukraine.
Laureate of the Z. Flinta Region Prize (1998)
"Grand Prix" of the Ukrainian symposium of monumental ceramics (Opishne, 1999)
Scholarship Program "Gaude Polonia" (Krakow, Oronsko, 2004)
First prize of Ukrainian symposium of artistic ceramics (Slavyansk, 2005)
Personal Exhibitions:
- gallery "Artes" (Lviv, a989);
- "and the pursuit of the wind ...": gallery "Gerdan" (Lviv, 2000);
- Willa Deciusza (Cracow, 2003);
- "Word Search": gallery "Dwa swiaty" (Krakow, 2004).
- "Exiled from Paradise": gallery "Dzyga" (Lviv, 2006)
- "Teapots, women, children and flowers" (Lviv, 2013)
- "Constant" (Lviv, 2013, Chernivtsi, 2014)
- "Garden" (Lviv, 2015)
- "The Magic Garden" (Odessa, 2016)
Also, participant of many other exhibitions in Poland, Latvia, Germany, around Ukraine.
Symposiums:
- International ceramics Symposium (Dzintari-Riga, Latvia, 1990);
- BOLESLAVETS Іnternational Symposium of ceramics and sculpture (Wroclaw-Warsaw, Poland, 1998)
- International ceramics Symposium (Chodzież, Poland, 2007)
- International ceramics Symposium (Oronsko, Poland, 2014)