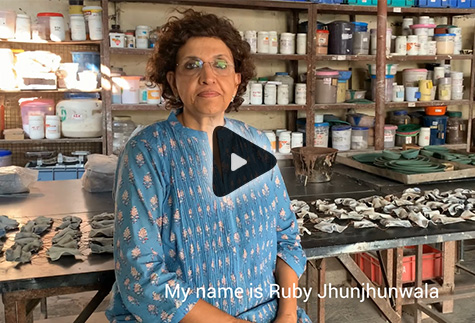 Ruby Jhunjhunwala grew up tinkering around glass blowers in her father's factory in Dholpur (India) and hence developed a natural affinity for glass and Ceramics from a very young age.
But the opportunity to look at ceramics asa profession came as a chance meeting with Ceramic artist Daniel Rhodes in the year 1972.
She then proceeded to Alfred University as a post grad student where she attended two years of intense training under ceramic masters, her main mentor being the late Daniel Rhodes. On her return to India she further trained under the guidance of master potters Gurucharan Singhji and Mansimran Singhji. Thus began a long and fulfilling career in art ceramics.
PROFESSIONAL TRAINING
1- Bachelor's degree in physics Math and Statistics, Ferguson College,Pune, India( 1968- 1971)
1- Ceramic School, Alfred University, upstate New York. (1971 -1972)
2- Delhi Blue Art Pottery , Delhi, India (1974)
In the last forty years Ruby has designed & executed large ceramic murals for hotels and residences across India.
Her work is both monumental in scale and meditative in nature.
Her creative style is very bold with fluid forms that challenges the viewer to question their definitions of one-ness.
"My art proudly wears the fingerprints, cuts, dents as a road map and documentation to my work." says Ruby Jhunjhunwala.
Recently she has collaborated with young contemporary artists from all genres. Together they have done large mixed media installations across India.
Her studio Adipa is an open space for young artists to explore and experiment. Ceramic artists from across the world come to conduct workshops at her studio.
Three years ago Ruby initiated a movement called "Mutthi- a Fistful of Clay". The main focus of this movement is to bring about an awareness of inclusion and acceptance of differently abled members of society.