In context to the theme of the congress 'On the Edge' my work is titled 'Walls of the same circle'.
In the midst of noises taking sides, opinions flying, walls defining the boundaries, there is a Circle… a whole, complete, timeless and infinite, without any angles or corners… all inclusive in the center.
Nature has a cycle, whether it's the events in the outside world or the happenings within oneself, bringing everything into a circle... where definitions break and ideas change, and what naturally remains is the Center.
Inspired by the use of clay in the folk tradition of India, I have been working extensively in terracotta, exploring different clays, building and firing techniques. My main preoccupation has been the form and the essence of space created by those forms in context to my concept and expression. My work is about the interrelation between man and space where sometimes man associates with the limitless space within and sometimes responds to the urban multilayered physical space around.
Mudita Bhandari
January 2020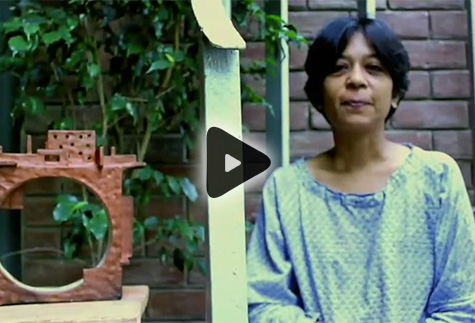 Born in Indore, India, Mudita Bhandari is a visual artist who predominantly works with clay. She received her BFA in ceramics from Kala Bhawan, Vishwa Bharati University, Santiniketan in 1998 and MFA from Faculty of Fine Arts, Maharaja Sayaji Rao University, Vadodara in 2000. She later joined the Faculty of Fine Arts, M.S. University to teach ceramic as a Teaching Assistant for two years before she moved back to her hometown and set up her studio.
She is the new member (2019) of International Academy of Ceramics, Geneva. A recipient of The Ceramic Art Residency Program of the FuLe International Ceramic Art Museums (FLICAM) in Fuping China in 2013 and a 'Special Mention' in the 'Excellence in Ceramics' Award for the year 2007 Jointly held by Delhi Blue Pottery and India Habitat Center, New Delhi, she has also received 'Best Terracotta Exhibit' award in 14th All India Studio Potters show organized by AIFACS, New Delhi in 2002. She has been awarded by the National Scholarship from Department of Culture, Government of India and the Lalit Kala Academy Scholarship in 2000.
Mudita's works have been exhibited widely and she has been part of various residencies and symposiums nationally and internationally. Her works are in collection with Mark Rothko Art Center in Latvia, Fule International Ceramic Museum, China and Mehmet Nuri Gocen Foundation of Culture, Education and Art, Turkey, ASNA Karachi, Pakistan, Bharat Bhawan, Bhopal India, Ceramic Center, Vadodara India, and with many other private collectors.
With a keen interest in the interactive process of teaching she continues to teach art and ceramics as a visiting faculty and has conducted workshops in various institutions like, Rabindra Bharati University, Kolkata, IIT Kanpur and IIM Indore.
Mudita works from her studio in Indore, India.
Mudita Bhandari
www.muditabhandari.com
https://www.facebook.com/mudita.bhandari