IDEAS = SYMBOLS = CULTURAL IDENTITY
How ideas become symbols and symbols - ideas.
Interests: the symbolism in the the world cultures, their ideas and elements that represent their identity.
Technique: I always use ceramic because I need to work with my hands, in an exercise of feeling without thinking. Ceramic has its own life, clay and glaze react at will and speak in my work, almost deciding...
Ceramic's fragility and complications challenges me continuously.
In history, ceramic has been the most accurate tool in the study of civilizations, it is eternal and universal, a dictionary of symbols.
I work in ceramic together with other materials - metal, wood, glass.
I tie everything; tying as joining pieces respecting their own individuality, tying to unite, and staying one when released.
I have always been fascinated with the old way of signing using symbols instead of signatures, so I sign my works with a stamp, a symbol that becomes part of the peace itself.
EVU
www.evuart.com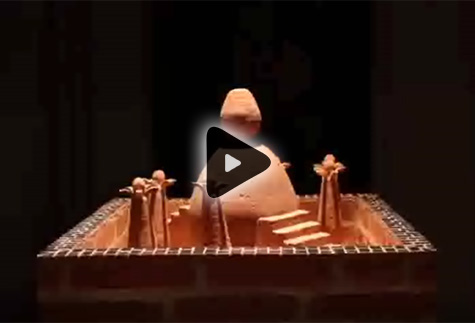 Ceramic Artist. Studies: Interior Design, Ceramics, Fine arts, Master in art Direction. ( Guatemala and Spain) Biennals: IX Talavera Spain, XX Cerveira Portugal, XII Manises Spain, IX Florence Italy. Museums exhibitions: Modern Art and MUSAC Guatemala, Yingge Ceramic Museum Taiwan. Artist Residences: Institute de la Marionnette France, Shigaraki Ceramic Park Japan, Farming Art Studio India, Rah Iran, Guldagergaard Denmark, Ceramic Artist Exchange – Tandem 2020 – Neumünster/Germany Public work: BIg Scale Murals: Ionian Center Greece, Jodpur India, INPA Manaus Brazil. Public Performance: UNIS Guatemala, Pottery Slam, Tel Aviv Israel, Anima Mundi, Venice It.
Member of the AIC, Ceramics International Academy 2019.
Studies in: Interior design - Escola Elisava, Barcelona, Spain; ceramics - Scola Sant Jordi Barcelona, Spain; RAKU - Meridiana,
Tuscany, Italy; drawing - Bridgeview Scool, New York, USA; Bachelor of Fine Arts - ENAP, Guatemala.
MFA in Art Direction, Escuela Superior de Diseño, Barcelona.
Select Group exhibitions: Salón Contemporánea, Italy; Salon ARGR, Paris; Art Palm Beach and Spectrum, Miami, USA; Gallery Laura Harber, Buenos Aires, Argentina; America's ClayFest IV, Roseville, USA; Arte en Mayo - Rozas Botrán Gallery, Guatemala; Gallery Ana Lucía Gómez, Guatemala; JUANNIO 2019, Guatemala.
Select Personal exhibitions: Primo Piano Gallery, Venice, Italy; Patrick Dumken Gallery, Cadaqués, Spain; Ana Lucía Gómez Gallery, Guatemala; Casa Santo Domingo, Guatemala; Espacio Alternativo POPOROPO, Guatemala; Centro Cultural José Gorostiza Gallery at the Mexican Embassy in Guatemala; Galería Sol Del Rio, Guatemala.
Museum Exhibitions:
Museum of Modern Art Carlos Mérida, Guatemala
MUSAC, San Carlos University Museum, Guatemala
New Taipei City Yingge Ceramics Museum, Taiwan
Prominent participations (featured or invited artist):
Art Expo Toronto - Invited Artist (2013)
IX Florence Biennial, Italy (2013)
XII Biennial of Manises, Spain (2015)
"Our Footprints in the World" (performance), UNIS university, Guatemala (2017)
Institut International de la Marionnette, Charleville-Mézières, France (2017)
Public space intervention / mural-sized mosaic, Kefalonia, Greece (2017)
The Shigaraki Ceramic Cultural Park Artist Studio Residence -Shigaraki, Japan (2018)
Farming Art Studio International Artist Residency, Andore, India (2018)
XX Cerveira International Art Biennial, Cerveira, Portugal (2018)
Public space intervention / mural-sized mosaic, Jodpur, India (2018)
"Our Footprints in the World" (performance), Pottery Slam 2, Benyamini Ceramic center, Tel Aviv, Israel (2019)
IX International Ceramic Biennial, Talavera, Spain (2019)
"Our Footprints in the World" (performance), Anima Mundi, Venice, Italy (2019)
Work on permanent display: Business Center Las Brisas, Guatemala.
Recognitions: Artist of the Year 2016, visual arts category, Hemeroteca Nacional de Guatemala.
Founding member and director of Poderosas: Leave Your Mark movement (poderosas.org).
Peace Agent for Peace Revolution (peacerevolution.net).