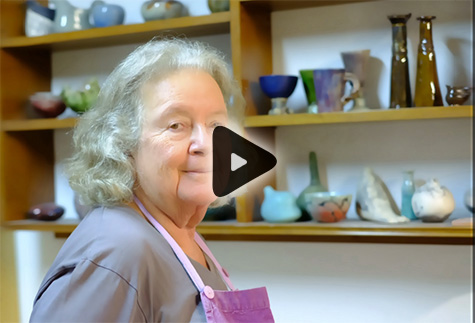 M a r o K e r a s i o t i
She was born in Athens-Greece 5/2/1939 where she lives and works. She studied ceramιcs in Athens 1957- 1961 and Florence -Italy (Scuola d' Arte di Ceramica e di Porcellana, 1961-1962).
She worked for two years with the potters of Amaroussion, and for nineteen years
with young delinquents and prisoners on a voluntary basis.
Between 1994-2000 she taught ceramics at the "Campus" Arts and Sciences College / Kifissia –Athens. Since then she runs a private class at her studio.
She is a member of the International Cultural Federation of Women and the Greek Chamber of Fine Arts, where she served at the Directing Board as well as in the Committee of Classification and Judgment. Since 2008 she was president for Europe and Africa of the International Ceramic Artists Association (ICAA China).
Her works can be found in museums and art collections all over the world.
She has published three books of poetry, six novels, articles and essays in newspapers and magazines in Greece and abroad. She has also given many lectures about ceramics in various institutions. She has presented her work at nineteen solo exhibitions, awarded 18 National and International prizes and she has judged national and International exhibitions..
In 2003 she was granted for a career achievement the award "Viagio a Traverso la Ceramica" (Museo di Ceramica Vietry–Italy) and nominated "European Ceramist of the year". Τhe same year she realized a large scale commission, four murals for the train station of the Olympic city of Amaroussion.