I create my own artistic world by expressing the connections between nature and self-consciousness. I use the throwing shape as base to make mountain figure to be the foundation of the pieces, then, developed and enriched the details of natural elements by hand building, sculpting etc., Furthermore, after the wood fire, the color and the texture come to be more like Chinese ink-wash painting. In this way, I built an imaginary beyond the realistic world and made a dialogue between my mind and nature.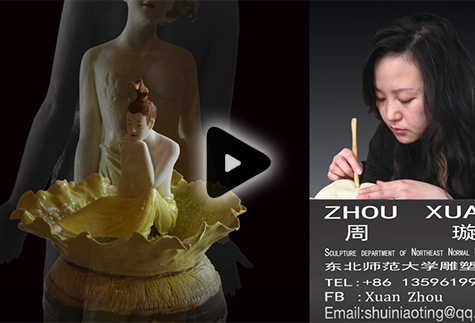 Academic Qualifications
2002-2005 MA in Ceramic Sculpture, Jingdezhen Ceramic Institute
2012-2013 Visiting Scholar, support by CSC (China Scholarship Council)
Travel / research at Australia national University
2019- PHD in Aesthetic of Philosophy, WuHan University
Grants and Awards
2012 Excellence Award, Colleges & Universities Educational technical
Achievements Competitions, Jilin Province
2008 Excellence Award, 2008 Olympic China Landscape Sculpture
Designs Competition
2003 Excellence Award, Second Chinese Ceramic Art Works Exhibition.
Competition & Exhibitions
2019 Across the Pacific: International Cultural Exchange Week Exhibition,
Palo Alto Art Center, USA
2018 Wuhan International Ceramics Exhibition, China
2nd "May Flower-China Female Ceramist Exhibition, China
2016 1st "May Flower-China Female Ceramist Exhibition, China
2014 Clay bodies Ceramix, Canberra, Australia
The 8th China Handcrafts Art School Exhibition, China
TihuGuanding-2014 International Pot Art Exhibition, China
2013 China-DongYing Sculpture Art Competition, China
2012 The First China Foshan International city sculpture exhibition
2009 The 11th National Exhibition of Fine Arts, China
2007 International Ceramic Design Exchange Exhibition, Korea
Harmonious but Diverse China Contemporary Nominated Sculpture Exhibition
2006 China-East Ally Youth Work of Art Creation Competition
The Second China Modern Arts and Crafts Exhibition
The first China Ceramic Arts New Show Exhibition
Solo Exhibitions
2017 Ware& Figure, Hong Kong Lotus Palace Art Centre, Wuhan, China
2013 Oriental Dream, ANU School of Art Library, Australia National University,
Canberra, Australia, October 10
Guest Lectures and Demonstrations
2019 Palo Alto Art Center, California, USA
2015-2019: Hubei Academy of Fine Arts, Wuhan, China
Conferences
2016-2018: The Aesthetics/ Fine Arts-Hubei Esthetic Annual Conference
2003-2017: The 1st,2nd,3rd,4th,5th China Changchun World Sculpture Conference
Professional memberships
IAC (International Academy of Ceramics)
China Sculpture Academy
Changchun City Sculpture Academy (council member)