The creation goes through destruction or aesthetics of breakage by taking advantage of the breakable nature of ceramics. I break through the traditiion as the broken artwork is doomed as a fail because of inadequate experience and skill. On the contrary, my skill is intended to sculpt layers by layers to get unexpected innovation as sculpture. <<Broken>> is my choice. Both intuition and rational come to my mind. The artwork will be judged by my aeshetics feeling and the condition of artwork to finish my creation.
With profound knowledge of the characteristics of clay, So Ling combines traditional Chinese papier mache and sculpting skill, and refines traditional saggar firing technique to create the unique color variations found in her artwork.
Her practices of shaping layer by layer of high-fired ceramics creates the distinct structure that not only defines her artwork but also breaks through the traditional pattern. This innovative technique would be significant in the field of contemporary ceramics art.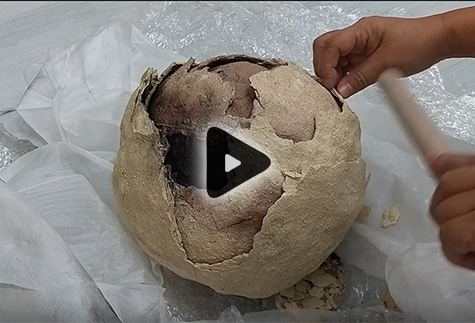 Born in Hong Kong, So Ling graduated with Bachelor of Arts in Fine Art (Major in Ceramics) which is a jointly programme presented by RMIT University and the Hong Kong Art School. So Ling won Gold Award in 2015 New Art Wave International Artist Award and also Silver Prize of Gyeonggi International Ceramic Biennale (GICB) 2017 International Competition, South Korea. Her works were collected by the above organizations and International Ceramics Studio, Hungary. She is now a member of International Academy of Ceramics. Besides, her works were also exhibited in Macao, Japan, Korea, Hungary and Hong Kong.