During the early stage of art journey, this teapot was made with the admiration and inspiration by the traditional Yixing designs. This start-up of teaport making is more emphasizing on the expressing of artist's characteristics and conceptual standings through the work itself and presenting people the strength reflected from the teapot structure, its surface textile and traditional cultural background which it is related to.
It also embedded somewhat philosophy while allowing people to have fun with it. Overall, it enables people to "swim" in the space of imagination both in and out of the teapot.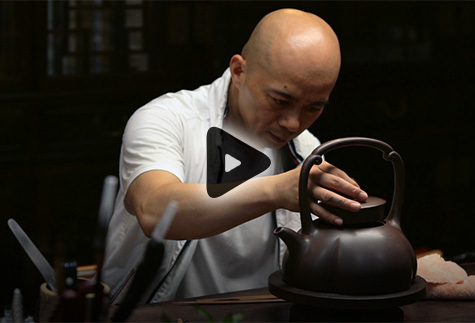 Profile:
Name: Fan ZeFeng, China F.
Date of Birth: June 30th,1976
He is awarded Artist of Jiangsu Ceramics, Researcher-level Senior Craft Artist, Master of Jiangsu Traditional Crafts & Skills, Outstanding Mid-Aged Expert of Jiangsu, Ceramics Connoisseur of Jiangsu, Member of 12th CPPCC of Jiangsu, Visiting Professor of Nanjing Institute of Technology. He has over fifty design patents registered from 2009 to 2018 and one new utility patent registered for a burst-proof boiling zisha teapot.
Professional focus
Design and creation of Zisha clay works.
Academic achievement
There have been twelve influential exhibitions and eight group exhibitions participated both at home and abroad, e.g.in UK, South Korea, Japan, Singapore and etc. Nine of his portfolios of collections and two writings are so far published. Dozens of gold medals are awarded to his works from national wide and over twenty of his works are collected in museums.
Research orientation
Professional Study on innovation of traditional arts of Zisha works, sintering processes of Zisha and other ceramics across the country.
The integration of architecture designing styles: European Baroque, Germany Bauhaus and Japanese Kengo Kuma into the works, bringing out the best effect in each other.