For the past 20 years I have dedicated myself to explore the endless possibilities and solutions in ceramic sculpture. My latest works have been an outcry of protest for Chile. Since the social outburst on October 18th, Chile has experienced drastic changes on a sociopolitical level. Chileans demand profound changes in the structural and ideological planes, including righteous public healthcare, equal rights for men and women and changing the constitution. I believe that the only logical way to produce art is to establish a dialogue through the artwork with the spectator; to converse with the politician, artist, and common citizen. In my work I have attempted to tell a story of the last 60 days in Chile. Once I agree to the form of my sculptures, as of late I have made drawings on the head shaped works, making a registry of the immense catharsis Chile is now experiencing after decades of injustice. My work reflects human identity, hierarchy, revolution, and sociopolitical issues.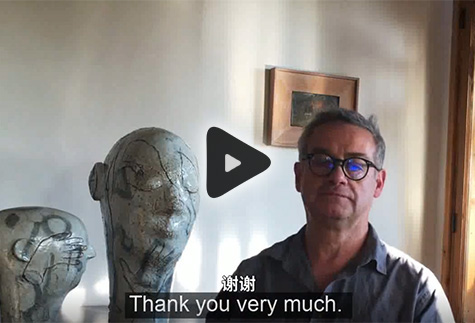 Biography
Fernando Hinostroza Rivera was born on October 12th, 1961 in Santiago, Chile. He studied Fine Arts in Pontificia Universidad Católica, with a major in Painting. Before finishing his studies, he enrolled in a ceramics potter's wheel and modeling workshop in Montgomery College in Rockville, Maryland. This course enabled him to discover his interest in ceramics.
Since 2000, he teaches art in the International School Nido de Aguilas in Santiago. He teaches younger children aged 4 to 8, introducing them to different techniques and materials. In the classroom he reinforces the idea that the process of exploring and making art is more important than the outcome. Additionally, he has been an assistant teacher and member of the ceramic studio Huara Huara since 1998. In the studio he explored the potential of ceramics in sculpture, a passion he would continue to develop to this day. In Huara Huara he has met distinguished ceramists including Warren Mackenzie, Magdalene Odundo, Gustavo Perez, Shozo Michikawa, Rafa Perez, and as of late, Kukuli Velarde.
In 1998, he was awarded first place for planear painting in the "El Color del Sur" in Puerto Varas, Chile. In 2006, he was also awarded first place for a ceramic sculpture contest in the Extension Center of Pontificia Universidad Católica for "Animal Esteka".
Fernando has held individual art showcases, Curado de Espanto in the Cultural Corporation of Las Condes and Oblongo in Galería Animal, as well as numerous collective exhibitions. On February 2019, he participated in his first international exhibition at the Saint Mary Virgin Gallery in New York City "6x6 Ceramic Tile Exhibition", with an artwork previously presented for the "Collaboration Brand Identity" exhibit in Washington DC by IDB Staff Association Art Gallery. Currently, Fernando is working on a series of head shaped ceramic sculptures inspired on the social outburst. He intends to reflect Chile's present day sociopolitical complex.