Old pots have an important historical value because they are a rich source of information for archaeologists. They reveal the lives of ancient people in their daily lives, but also from their spiritual rituals. These antique vessels are based on ancient forms, archetypes and have a universal appearance. It is this universal spirit that I try to express in my work. My vessels carry signs and symbols and tell stories about relationships and communication, about origin and evolution, about people and nature, about existence. My pots are metaphors for beings who communicate with each other.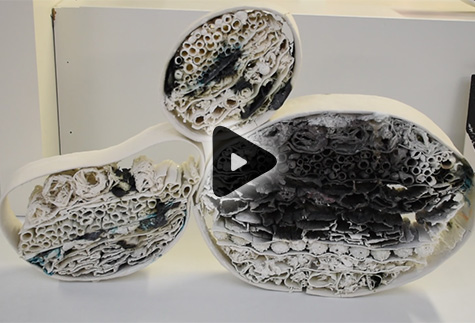 Patty Wouters studied graphics and ceramics at art schools in Antwerp and Hasselt (Belgium) and at Wolverhampton University, UK. She participated at ceramic workshops with well known ceramists like Takeshi Yasuda, Antonia Salmon, David Miller, Dave Roberts, Sasha Wardell, Steve Mattison, Peter Lane and many others.
In 1987 she set up the Art Education Institute "Atelier Cirkel", where she organised several workshops and master classes in ceramics and other art disciplines.
She is invited for lectures, demonstrations and ceramic symposia in Belgium, Holland, France, Italy, Japan, South-Korea, Sicily, Australia and USA.
She was an invited professor at EWHA-University and Hanyang University in Seoul, S-Korea. Currently she is professor at Keimyung University in Daegu, S-Korea.
Her work has been honoured with several prices in Belgium and abroad.
Since 1985 she participated at many national and international exhibitions.
www.pattywouters.be