Artist Statement Julia Schuster


Julia Schuster's art practice is anchored in material-specific making with clay accompanied by writing, moving image and performance. She explores how materiality, craft, writing and movement unite. By using various ceramic techniques (e.g. slip-casting, hand-building, wheel-throwing) and different formats (e.g. installation, sculpture) she puts the body and the importance of touch at the core of her practice. Her work is experiential and essentially about being in contact. Skin is explored as a site, constituting subjectivity and demarcates the border between the exterior and the interior, marking our final boundary and our primary point of connection. She is fascinated by how the material of clay and the human body both share a capacity for memory where traces remain visible.

Impressions from a research journey to India, where Schuster first started to become fascinated with observing and recording hand gestures, inspired her to explore the rhythm, practical and sensory experience our hands contribute to culture, movement and contact and triggered the creation of the work 'Movements'. Dance and the sensuality of the moving body are a further inspiration for the porcelain series 'Movements', which renders tangible the bodily, fluid qualities of matter. Repetitive and rhythmic actions are used to solidify the aesthetic of natural motion in time, making each 'Movement' piece a unique record of a flattening gesture. An oscillating dialogue between movements from inside out to outside in, here celebrates the theme "on the edge" as a poetic sculpture.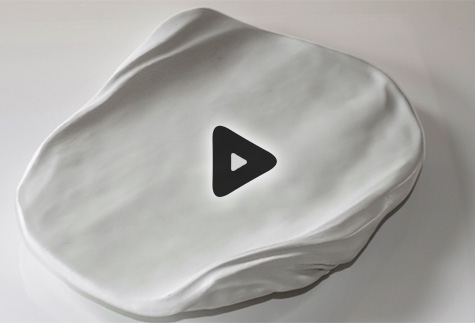 Artist Biography Julia Schuster


Julia Schuster (b. 1989 Vienna, Austria) holds an MA in Ceramics from the Royal College of Art in London (2016) and has completed a BA (hons) degree in Design from the Faculty of Design & Arts, Free University Bolzano-Bozen in Italy (2013). Her work has been in numerous exhibitions nationally and internationally, which include the European Ceramics Context, Denmark, the British Ceramics Biennial, Stoke-on-Trent, Ceramics and its Dimensions: Shaping the Future touring show (Berlin, Ljubljana and Prague) and Photo Kathmandu Festival, Nepal. Most recently in 2020 she exhibited at Palinsesti in Italy. Residencies include the studio of the onggi potter and artist Master Hyangjong Oh, Hwasun, South Korea, Marlborough College, United Kingdom, Mixed-media residency Photo Kathmandu, Nepal and the Glass & Ceramics School KADK, Bornholm, Denmark. She is a recipient of the Sir Eduardo Paolozzi Travel Grant, the Worshipful Company of Tin Plate Workers Ceramics Prize and the Future Lights in Ceramics Award. Collections include various private collectors, Marlborough College in England and JEP University, Ústí nad Labem, Czech Republic.

Schuster's work in a number of very different cultural settings and countries has turned "to go on walz" into a key methodology of her practice. "To walz" namely describes a tradition from medieval Germany where a craftsperson would travel around as a "journeyman" to learn from different workshops and master craftspeople. To her "to go on walz" is a contemporary reinterpretation of both learning from and contributing to various communities.

Currently she is based in Vienna and Southwest Sweden, where she will hold her first Swedish solo show in autumn 2020.