Statement
Since we are born inside a culture, we are surrounded by ceramic objects: made to celebrate rituals of birth, marriage and death, and to be part of the rhythm of the solitary and social acts of eating and drinking. Color has its own symbolism.
In our memories the everyday objects that accompanied us mutate their forms. Mental and emotional variations on the physical presence of objects lead us into land of potential associations.
Working with ceramics confronts us with tradition and innovation, from time immemorial to contemporary. I explore the sensitivity of capturing traces of clay and the power of fire to perpetuate them. Repetition builds new landscapes.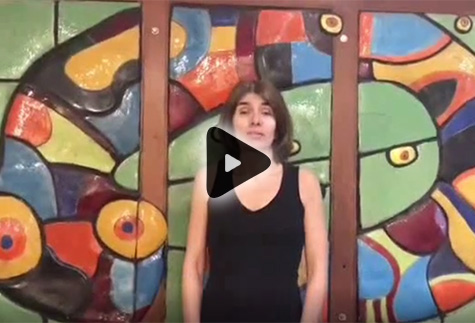 TARELA, MARIEL ANDREA

Born in La Plata on October 24th 1968. Professor of Fine Arts: Ceramics(1991)and Master of Fine Arts: Ceramics (1992), Faculty of Fine Arts, National University of La Plata (UNLP) - University Graduate Diploma in Arts:Sculpture (2001) and MA of Arts (2002), Faculty of Arts and Design (HfK), University of Bremen, Germany. 2009 PhD candidate, of Contemporary Latin American Arts Programme. FBA, UNLP.

Awards (selection): 2006 Third prize in the "the modern animal plastic" State of Manufacturing Porcelain Meissen, Saxony, Germany. This work becomes part of the series production of the Manufacture. 2011 Grand Prize of Honour 52 Annual International Ceramic Art Argentine Center. Municipal Institute of Ceramics of Avellaneda. 2011 Jury Mention the 2nd Exhibition of Small Format Art Argentine Center of Ceramic Arts San Martin de Los Andes. 2012 2nd Award in the Second Exhibition of Bidimention of the Argentine Center of Ceramic Arts. 2013 Grand Prize of Honour 54 Annual International Ceramic Art Argentine Section: Ceramics and Arts 2015 Honour Mention Exhibition of Small Format Art Argentine Center of Ceramic Arts Galery Dawa, CABA. 2017 1st Award 58 Annual International Ceramic Art Argentine Center. Section Arts and Multiplex 2017 Honour Mention the 2nd Exhibition of Small Format Art Argentine Center of Ceramic Arts San Martin de Los Andes. 2018 Grand Prize of Honour 59 Annual International Ceramic Art Argentine Section: Ceramics and Multiplex

Acquisitions for the public domain(selection):

2000: Kaffeekanne (Coffee) Brick Museum Vechta, Germany 2003 "Dialog-Garten Garden Sudweyhe, Germany 2005 Fischbank State Museum of Industry and Factory Museum Bricks-Lage, Germany 2006 Schachspiel State Museum of Industry and Factory Museum Bricks-Lage, Germany

Acquisitions in public collections: Olfry Brick Museum, Vechta, Germany; Industry and State Museum-Museum Lage
Brick Factory,Germany; Artotec Oldenburg, Germany; Argentine Centre of Ceramic Arts, National University of Tandil.



Beccar, Januar 12th, 2020